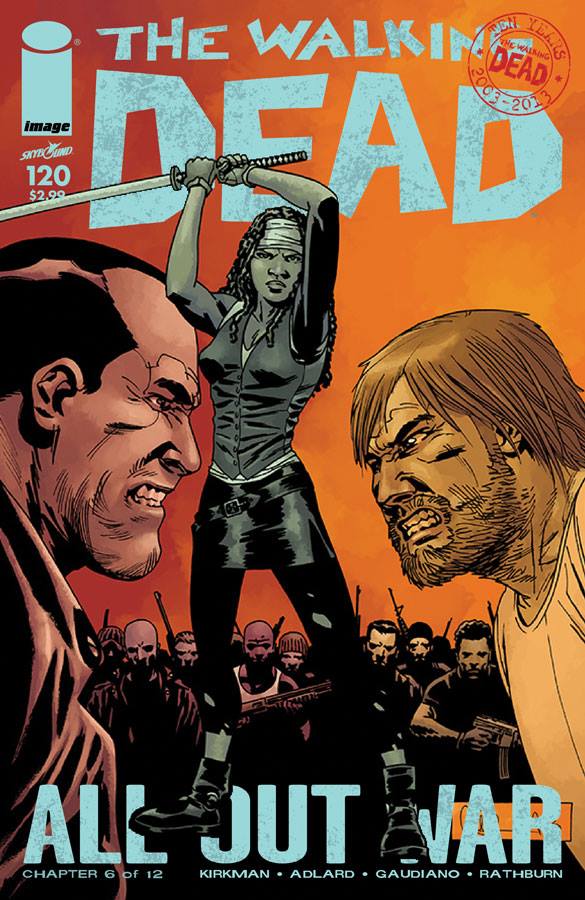 Greeting zombie fans… for reasons completely unknown to me, I dropped the ball on posting about mine and Grace's most recent episode of Under the Comic Covers.  This time, we dig into issue #120, the sixth part of The Walking Dead's All Out War arc, concluding the first half of the planned 12 issue story… and let me just warn you now, we get a little bit ribald in this one.  Parental discretion is advised… and for the more squeamish male listeners, be forewarned, feminine hygiene in the zombie apocalypse is discussed.
This podcast reaches in and pulls at the intestines of The Walking Dead, so if you are not completely caught up with the series, beware… spoilers a plenty.
Make sure you subscribe to The Walking Dead'Cast so you don't miss a single episode.  If you have any questions or comments for Grace or I, send mail to comics@walkingdeadcast.com, or send us a voicemail via the "send voicemail" tab on the right side of the screen at walkingdeadcast.com.  We can also be found on Twitter @UTCCovers.
Download the podcast via iTunes, or simply follow this link.
Now I know what a menstrual cup is,
Cornelius J. Blahg