Getting recommendations for new comic series can be a dicey proposition… but when three different people whose opinions I respect all independently recommend something, I pay attention.  Such was the case with Brian K. Vaughan's (Y: The Last Man, LOST) latest series, Saga… and fortunately, it's only twelve issues into it's run, with the thirteenth being released next month after a many month hiatus.
Saga tells the oldest of stories, but with a science-fiction/fantasy twist… two people from opposing sides of a war fall in love and have a baby… nobody is happy with the situation, thus, they have to flee in order to stay alive.  The twist is that the mother, Alana, is a winged resident of the planet LandFall… the father, Marko, is the ram-horned conscientious objector from Landfall's only moon, Wreath.  The war between their homeworlds has been raging for years, to the point where their worlds have become peaceful, yet the war is being fought in proxy all across the galaxy.  Thrown into the mix is a Robot Kingdom that is hired by Landfall to hunt down the would-be-Romeo-and-Juliet, they are humanoids with old televisions for heads, as well as a group of freelance bounty hunters, with names such as The Will and The Stalk.
For as rudimentary as the story's backbone is, the execution is anything but.  The story opens with the birth of Alana and Marko's daughter, Hazel, and is narrated throughout by Hazel herself, telling the tale from the comfort of an unknown future time.  From the moment of her birth, they had to begin running… and the gaps in their past are slowly filled in as the narrative unfolds.  At one point, we are introduced to Hazel's eventual babysitter… a ghost of the upper torso, intestines dangling to great effect, of a teenage girl, Izabel, who helps Alana, Marko, and Hazel escape Cleave, the planet they have been hiding out on.  But there are plenty of people seeking the hybrid child, and they all want the parents dead, but the baby alive… and that includes Marko's parents and former fiance, Gwendolyn.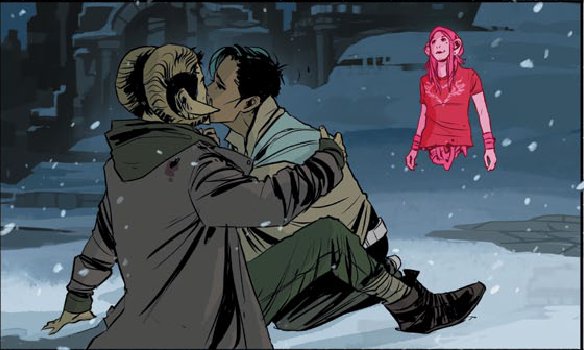 Enough about the plot though… I've already given too much away…
The artwork is incredibly stunning and rendered in gorgeous detail.  For as sexual and violent as the book can be, and be forewarned, this is definitely adult material, I was pleasantly surprised to see that the artist is a woman, Fiona Staples (DV8: Gods and Monsters, T.H.U.N.D.E.R. Agents), a seeming rarity in the sci-fi comic industry.  My understanding is that she is responsible for most, if not all, of the designs and alien races (see the image of The Stalk below) and Vaughan has credited her art as influencing the direction that the story has taken… and after spending some time basking in her unique, sensual, wildly inventive, and stunning art, I can understand how that could be.  Simply beautiful… and I'm eager to see what she will come up with next.
When Saga was announced at the 2011 San Diego Comic-Con, it was billed as, "Star Wars meets Game of Thrones"… two franchises I wholeheartedly embrace… and their influences can be felt throughout.  Yes, it's a sci-fi tale of warring worlds and the rebels trying to make a difference… but it's also a world filled with intrigue, sexuality of all sorts, and familial conflict… and it doesn't seem to shy away from the uncomfortable… in fact, it seems to revel in moments meant to make the uninitiated squirm.  Underage prostitution?  Check.  Cross-species sex?  Check.  Impotence? Check.  Grotesque violence?  Double check.
I don't believe I could recommend this to everyone… certainly not to the under-aged, and probably not to the more prudish… but if you want a great new adult comic series to sink your teeth into, Saga is certainly one to check out.  I'm very glad I did… and I'm always happy to support Image Comics, home of The Walking Dead.  Plus, I will now begin digging into Vaughan's other well-known comic, Y: The Last Man.
Pay attention to recommendations… oftentimes the results are more rewarding than you could possibly imagine… and Saga is certainly rewarding.
Are you happy to see me, or are those just horns on your head?
Cornelius J. Blahg