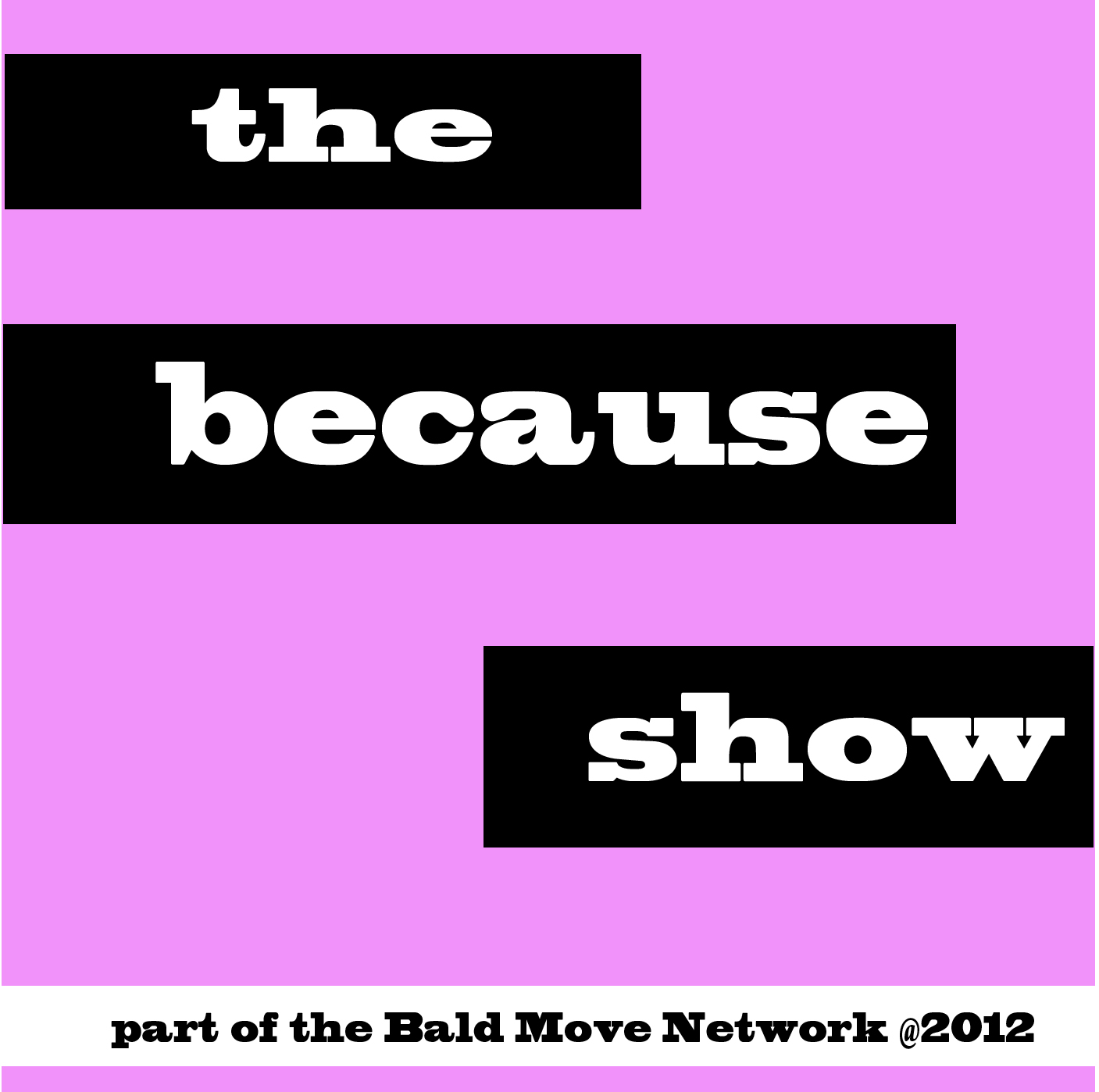 If there was a more appropriate day to review The Because Show than International Women's Day, I can't imagine what it would be.  The newest podcast in my repertoire of listening pleasures, The Because Show has quickly become one of my more anticipated listens of the week thanks to Jason of The Walking Dead'Cast and Grace, a fellow TWDCAST listener, pointing me in their direction.  I may not be their target audience… but I am now a fan.
The Because Show consists of three friends… Jerilyn Dever, the show's moderator, Amy Forstadt, and Susan Wright… and we, the listeners, get the chance to listen in to three women as they make us laugh, share in some personal stories about their lives, and delve into things of a very feminine nature.  They seem a bit surprised that their male fan base is growing… believing it to be a case of gender eavesdropping or wanting to know what women talk about… but it goes well beyond a boy/girl thing… ladies, it's a fun thing.
These women seem to be having fun… and that makes all the difference in the world.  Sometimes they will discuss serious issues… how to deal with money and budgetary problems, discussion about discipline for their kids (they don't bring up their kids too much, but I love it when they do), and whether or not to get annual mammograms after the age of 40… but what makes their show better than just a podcast about women's issues is that they are also silly and candid to the point where I could imagine many people blushing at what occasionally pops out of their mouths.
In recent episodes they have been discussing a Sybian, basically an elaborate masturbation machine… aka "the fucking machine", and how they are going to be getting one and will give it a review post-use.  When it became apparent that they would have to share said machine… Jerilyn balks, and Amy is up for going third.  They have also discussed, in great detail, some of Susan's vaginal problems of being dry and itchy, probably the onset of early stages of menopause.  They are frank… they are open… they are often hilarious.  In an episode from last week, Susan also talks about her past… good girl gone bad gone good again… and relates a story of visiting a well known sex club in New York and whipping some sadist to the point of his completion and being asked to put her cigarette out on his tongue.
I've managed to go back a few months in order to listen to past episodes, and that included a few episodes from 2009 and 2010… it has been a pleasure hearing their evolution of the course of 100+ episodes, and to hear the perspectives of three women in my age bracket with similar issues.  I may not have an itchy vagina or the need for a Sybian, but I can relate to money, relationship, and child rearing discussions… the rest is just gravy.
They also play games, such as "fact or fiction", where Jerilyn will come up with a topic and the other two have to guess if what she is saying is true or false, and will just spend half an hour laughing and dishing on Amy's hunt for James Franco, who recently moved in to a place on her street.  The arc of this story is wonderful… best of luck Amy!  They discuss books, movies, and will sprinkle little bits of pop culture throughout each episode… there appears to be no topic that they won't cover, and that helps give the show an almost "anything can happen" vibe that is often lacking from more scripted podcasts.  Where else are you going to hear a saga about someone's library card?
I love it when any podcast makes a point to reach out to their listeners and asks for feedback and/or calls and emails.  They seem to appreciate any and all listener feedback (although, don't leave them a one star review on iTunes that criticizes them for talking about coochies too much… they will eviscerate you on Facebook and Twitter… then again, who leaves one star reviews… if you don't like it, don't listen… and what do they mean by "too much coochie talk"? No such thing) and do a great job of reaching out to those that support them, plus, they ask specific questions and encourage people to call in or write an email in order to share your thoughts on a particular subject.  Nice touch.
Although I've gone back and listened to some past episodes, I've been enjoying listening to the new ones as they are released… I'm beginning to get a feel for each of their personalities, and realizing that many of my first impressions were a bit off.  They each have their particular quirks and nuances… and they allow those to come through very well.  I won't go into my impressions specifically, that would be far too telling… but I imagine they would be a hoot to have a drink with… or in Amy's case, half a drink with.
The only part of each show that I regularly skip is their product reviews.  I don't wear makeup… I will never be seen making a purchase at the MAC counter… but fortunately, they leave that until the end, knowing that many of their listeners simply aren't interested.
If you enjoy the company of women, if you enjoy some open and candid discussions that can go anywhere, or if you simply enjoy some funny stories and time spent with friends… I would suggest you give The Because Show a listen.  In their quest for a tagline, my favorite thus far has been, "making boring things interesting"… I couldn't agree more.
You can "like" The Because Show on Facebook… or you can follow them on Twitter @TheBecause
Not the target,
Cornelius J. Blahg