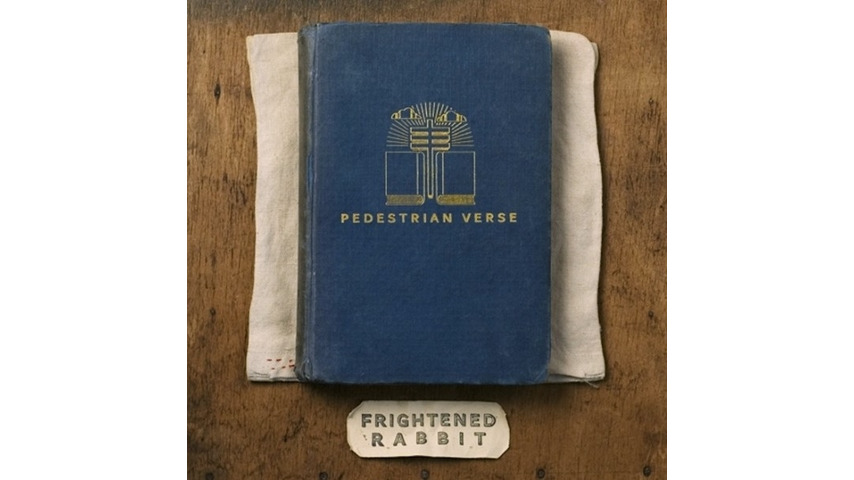 I had not heard of Frightened Rabbit until a few weeks ago following the release of their fourth studio album, Pedestrian Verse.  Thanks to a glowing review by a well respected arbiter of good taste and a quick listen to a few snippets on iTunes, I decided it may be worth the money to check them out.  Not only was it money well spent… but if there was some indescribable piece of myself missing, that void is now filled.
Every subsequent review I've read of the album seems to harp on lead vocalist Scott Hutchison's gloomy lyrics and depressing overall vibe from past albums and how, although still present in Pedestrian Verse, seems tamped down somewhat.  Not having those past experiences with the band to mine my opinions from, I am left with the task of listening to the album fresh and unencumbered by expectations.
For starters, I rarely even hear lyrics until after the twentieth listen or so… I listen to the music, I get a "feel" for what I'm hearing… if it applies to one mood or the other, even better… but lyrics rarely factor into my opinion when I'm listening to music, unless of course those lyrics are so patently ridiculous or offensive, otherwise… meh, I don't care so much about what you're saying as much as I care about how you are saying something.
Quick flashback… I remember being in the car with my dad when I was younger and hearing The Police's De Do Do Do, De Da Da Da on the radio and my dad chiming in about what a stupid song it was.  The lyrics may be silly on the surface, but the music and the meaning are anything but.  An early lesson on lyrical importance… not everything is going to be Bob Dylan.
Frightened Rabbit are a Scottish band from Selkirk that formed in 2003.  Since that time, some members have left, but ultimately, Scott Hutchison has been adding members with each new album.  What began as a band consisting of himself has now grown into a five piece including:  Scott Hutchison, lead vocals/rhythm guitar; Grant Hutchison, Scott's brother on drums; Billy Kennedy, lead guitar, bass, keyboards; Andy Monaghan, more guitar, bass, keys; Gordon Skene, yet more guitar and keys.  I don't quite know how a band can have so many guitarists and not be some 80's metal/hair band… but that's the lineup, and it works to great effect.
From the moment the first track, Acts of Man, began, I knew I would be hooked.  If there is any beef I've had with many bands over the years, it would be songs that start at one level… and maintain that level… and eventually end without ever having gone anywhere.  Trance as a genre would probably fit that description, but even many rock bands and so called "alternative" (is that a moniker anymore… I feel old) music have this problem.  Frighted Rabbit does not suffer this fate.  Acts of Man begins with a haunting and sad piano and Hutchison's voice, a somewhat reedy Scottish falsetto, before adding instrument upon instrument until it swells into an anthem of non-heroism.  The first lyric you hear is, "I am the dickhead in the kitchen /giving wine to your best girl's glass"… not quite a heroic feat.
From there it goes into a remarkably catchy and great song, Backyard Skulls… layered in keyboards and rapid fire drums, I was blown away by the music's forward momentum while seemingly hanging out in minor chords.  The third track, Holy, suddenly gives us a melody via bass and more strong drumming from the other Hutchison… great song.
By this point during my first listen I was waiting for the ball to drop… when would I find a stinker in here?  Where was the filler?  There are a couple of slower, less anthemic tracks present, but frankly… those are perfectly placed on the album and do nothing to detract from the overall thrust this album offers.  Mind you… this is not some party album ala Andrew WK… when I am referring to that forward momentum and thrust, I'm referring to the emotional push the album delivers.  I am fond of each and every song on this album… and I would be very hard pressed to think of another album I could say that about (Demon Days, by Gorillaz is one… and I can think of a few others, but you get my point).
The singles from this album thus far are the fourth track, The Woodpile, and another track that was on a previous EP, State Hospital, where the album title derives from.  Both great songs… but not the best on the album by a long shot.  I would have to give that distinction to Late March, Death March.  My first thought when I heard it was Peter Gabriel's Games Without Frontiers… but that probably has more to do with the whistling.  Again, wonderfully layered, very strong drumming, and an incredibly uplifting and powerful sound.  Hell, my ten year old daughter even starts singing along from the back seat when I play this in the car.
If I were to attempt to describe their overall sound… I would have to imagine a band who's parents were a combination of Big Country (they are very Scottish) and U2, with a splash of The Shins (December's Traditions, the sixth track, opens with a very Shins-like vocal), perhaps a touch of New Order… and it all had an affair with Arcade Fire.  I have no idea if that makes any sense whatsoever, but those are some of my passing thoughts.
I made the mistake of buying the special edition which includes three extra songs and a documentary.  I haven't taken the time to watch the doc, and frankly… the album ends perfectly where it should have… twelve tracks, ending with The Oil Slick, another surprisingly peppy sounding tune where Hutchison sings, "Took to the ocean in a boat this time /Only an idiot would swim through the shit I write /I cannot talk about life and love /I've got a voice like a gutter in a toxic storm", and goes on do compare his words to an oil slick.  Obviously, his perkiness is buoyed by the music… lyrically, he still seems to be quite miserable… that should make those who are concerned that he sounds too happy comforted.
My final takeaway from Frightened Rabbit's Pedestrian Verse?  A must have album.  The last few months have been good for me musically… I've found a few great albums to enjoy… but this may be my favorite of the bunch.  I've given it a test in multiple ways… driving, doing chores, drunk, background… and in every situation and every time, I love it more and more.  If I graded anything, I would be compelled to give this album an A… but I don't… so I won't… but seriously, this is a great album.
I am the dickhead in the kitchen,
Cornelius J. Blahg