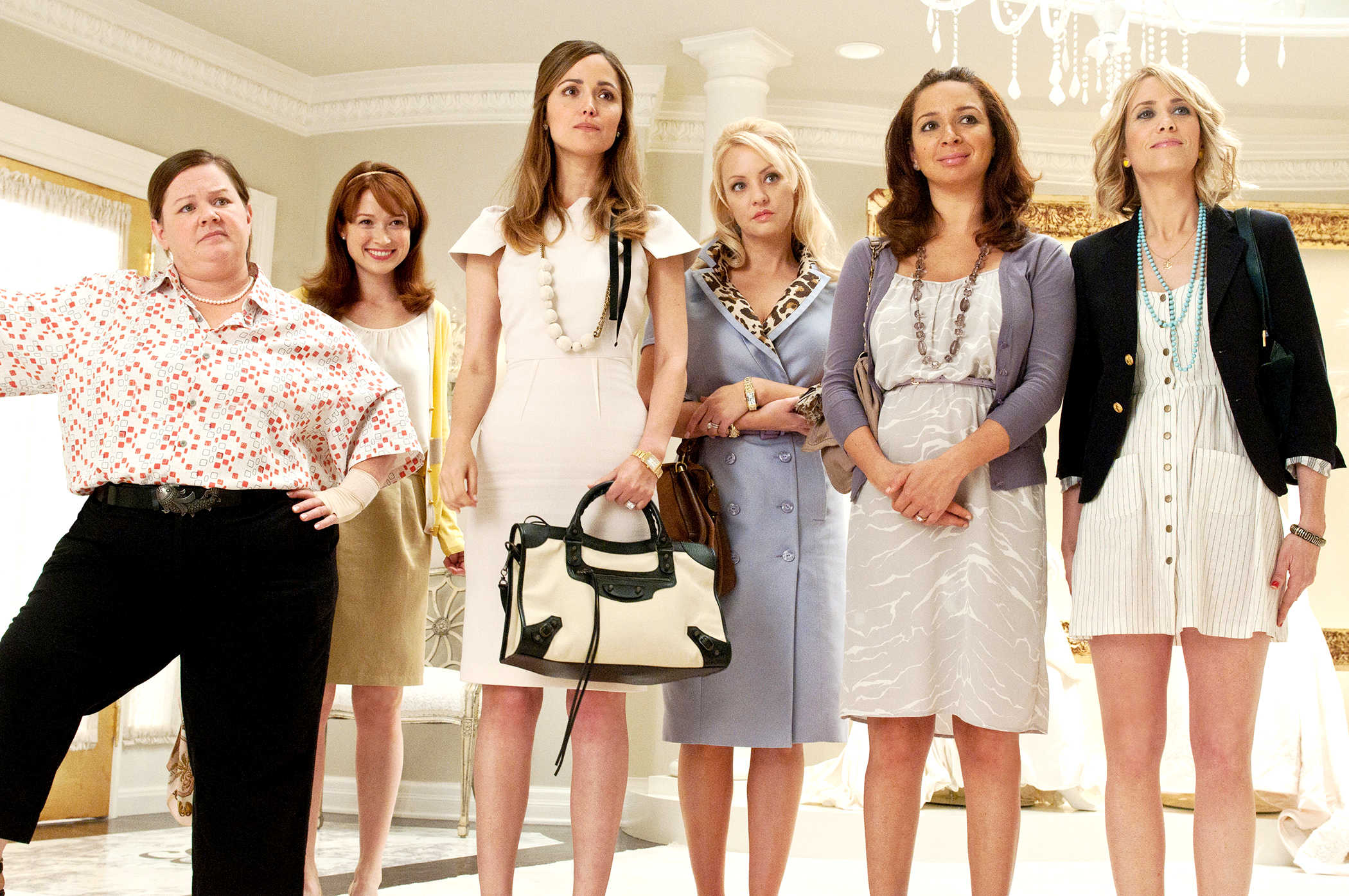 Bridesmaids will invite comparisons to The Hangover, The 40 Year Old Virgin, Knocked Up and the ilk… and it will stare them all down until they are quivering little piles of man goo begging for mercy from what is not only a foul-mouthed, raunchy female buddy comedy, but also a film that seems to come from a very honest place.  From the moment we see Kristen Wiig and Maya Rudolph together it is exceptionally obvious that these two are good friends, and their interaction has a palpable ease and rhythm that places you into a wonderful sense of familiarity… whether it's the fact that we know them so well from SNL or from other films or the fact that the dialogue is as natural as could be… either way, it works.
Directed by Paul Feig, produced by Judd Apatow, among others, and co-written by Kristen Wiig and Annie Mumolo, this team manages to help Apatow break his unfortunate spell of crappy female characters and maintain his hilarity quotient while upping it a little bit in the process.  Anyone would be hard pressed to top some of the more recent bad boy antics in comedies over the last few years… really beginning with 40 Year Old Virgin… but this movie gives us some scenarios and happenings that will have you squirming in your seats while tearing up from the laughter.
The story begins a bit slowly as we are introduced to Annie (Wiig) to Lilian (Rudolph) and get a feel for their friendship… the closest of friends since childhood.  Annie is a bit of a mess.  She opened a bakery with her now ex-boyfriend during the recession, bakery folded, boyfriend left her, totally broke, now working behind the counter in a jewelry store where happy couples come in and are greeted with her quiet(ish) contempt and subtle(ish) jabs and having a freaky British guy and his freakier sister as roommates.  The only other relationships in her life are the one with her mother, the late Jill Clayburgh in her final role, and Ted, her prick of a fuck buddy as portrayed by that devilishly handsome Jon Hamm in an uncredited role. When she hears that Lilian is getting married, the movie takes off.
Upon arriving at the engagement party Annie is introduced to the other bridesmaids.  Each of these women seem to represent some variation of an individual trope… there is the young newlywed Becca (Ellie Kemper, who is apparently on The Office), adorable and blissfully clueless; Rita (Wendi McLendon-Covey), the jaded mother of three who needs something other than her husband to light her fire… preferably a pair of balls in her face; Helen (Rose Bryne) as the new friend of Lilians' who is more wealthy, well traveled, sophisticated and thin than Annie which of course becomes the focal point of Annie's spiral into insecure-ville; and best of all, Megan (Melissa McCarthy).  I don't know where she came from or who she is, but if ever there was a scene stealer, she is it.  A woman who knows who she is, what she wants and isn't afraid to say it.  Every time she comes on the screen, a shocked guffaw will inevitably follow.
The dynamic between these women is immediate and consistent.  Each performance is outstanding and each woman tweaks their comedy to fit into the whole.  As the wedding planning progresses, each stage is met with one disaster after the next… and a series of painfully funny situations involving a plane ride, a public meltdown and a bout of food poisoning (not necessarily in that order) involving more body fluids that I thought possible in a cast of so many women.  This may be a movie about women… but it is not some delicate chick flick… this is some serious lady debauchery.
It's not all gross out humor and silliness.  Annie eventually comes across a great guy in the form of a cop who pulls her over after mistaking her for being a drunk driver.  Officer Rhodes (Irish comedian Chris O'Dowd) is an affable friendly fellow… certainly we know how this will end up… but how badly can she screw things up in the meantime?  Quite badly as it turns out.  But this film manages to move through these story arcs deftly and in as non-cheesey a way as possible.  Thanks to Kristen Wiig's ability to convey so much with that elastic face and expression rich eyes, all of her various sketch personalities from SNL were apparent at different times throughout the film, but instead of standing out as one sketch after the next, she manages to bring all of those odd traits and quirks into one very three dimensional character.
And that may be the most revelatory aspect of this film… every character seems three dimensional and fully fleshed out.  Sure there are a few caricatures here and there, but the majority of the performances are spectacularly hilarious… and for a movie that is two hours and five minutes I was shocked at how I wanted to explore some tangents further… particularly a fun drunken bit of confession between Becca and Rita on the plane to Vegas (and if you watch the trailer, half of those scenes or lines aren't in the movie which leads me to believe they must have an alternate scene/outtake reel a mile long. I'd love to get my paws on that. Also it's red band, meaning R rated trailer… naughty words).  Put simply, this is a great movie and a phenomenal launching pad for Kristen Wiig's (and a few others) leading lady career… not to mention this being her first screenplay.  I haven't even gone on about Rose Byrne's performance… spectacular.  And with each of the women, Wiig and Byrne in particular… for all of the awful we see in them, they remain sympathetic throughout.
As much as we hear about there being no good roles for women in Hollywood… it appears women in Hollywood are now taking it upon themselves to bring the funny.  From Wiig, to Rudolph, to Kristen Schaal, to Ellie Kemper, to Amy Poehler and Tina Fey… SNL seems to be a breeding ground (Schaal excepted) for some of the funniest women ever and I'm happy they are sharing their wit and humor with all of us and paving the way for women to show men how to really get a laugh.
This is a welcome great start to the 2011 summer season…
I vote for female fight club,
Cornelius J. Blahg