Have you ever wondered whether or not gum will really stay in your gut for seven years?  Perhaps you have always wanted to know more about knights, samurai or pirates.  Do you have questions about reincarnation?  Have you asked yourself, "How does Tourette's Syndrome work?"  If you can answer yes to any of these questions, you owe it to yourself to listen to Stuff You Should Know.
Hosted by Josh Clark and Charles W. "Chuck" Bryant of Discovery's Howstuffworks.com, these two guys (shown below; Josh on the right, Chuck on the left) have a fantastic rapport and a wonderfully casual attitude towards the podcast and fortunately towards to material itself.  Neither one claims any particular expertise on any of these subjects but they do a bit of research and find out some of the most revealing and oftentimes hilarious information about any number of subjects… some of which I've mentioned above.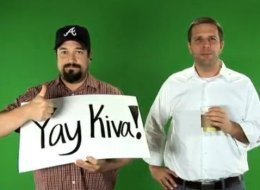 Their podcast tend to run around 30 minutes (earlier episodes were less than 10 minutes), they first cover the titled subject matter (ie. Who are the Amish?) then move on to listener mail or discuss various charity groups such as Kiva, a fantastic micro lending organization.  They do their best to be respectful of whatever they are covering, but are not above the occasional juvenile crack.  Funny yet informative, this is a wonderful podcast to fill some time with and get some cool info.
Their podcast can be found on iTunes or at Howstuffworks.com.  Give it a listen… you might be surprised about how much you can learn in 30 minutes.
A man familiar with stuff,
Cornelius J. Blahg