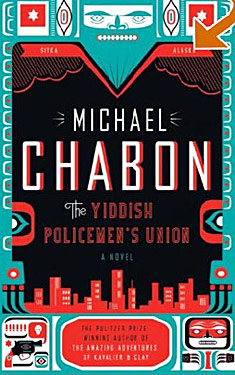 The Yiddish Policemen's Union, Michael Chabon's 2007 novel is, in essence, a hard-boiled detective story.  All the classic pulp elements are present and accounted for.  Even the author claims he trimmed up his usual long sentences and longer paragraph structure for a more Dashiell Hammett and Raymond Chandler feel… yet, this is ultimately a science fiction/alternate reality tale.
Following the massive success of his Pulitzer Prize winning novel The Amazing Adventures of Kavalier & Clayin 2000 (a remarkable read by the way), Chabon worked on his follow up for some time… and scrapped his first 600 page treatment.  He had learned of a report from 1940 where the US was considering giving a temporary refuge to Jews fleeing Europe on land in Alaska, but the Slattery Report was denied a vote mainly due to one congressman's objections.  In his novel, Chabon imagines a world where this congressman had died in a car accident, Jew's relocated to Sitka, Alaska  in 1941 where they have independence for 60 years, the holocaust claims only two millions deaths (as opposed to the six million in reality), the state of Israel was destroyed in 1948 and many other particulars of World War II and the history of the past are quite different.  The most remarkable part of the way Chabon presents all of these ideas is that almost none of this is expository.  It is all referenced and alluded to.
The story takes place at the end of this 60 year period.  A man is found murdered in the same building as our protagonist, Meyer Landsman… an alcoholic homicide detective.  Who the man is and why he was killed is the basic thrust of this tale.  As Landsman and Berko Shemets, his half-Jew half-Tlinget (Native American) partner investigate, they get deeper and deeper into a situation they should know nothing about.
Throughout the novel, Chabon mixes in this alternate history with a very clever use of Yiddish throughout.  Most notably, they refer to guns as sholem, literally translated as peace.  Not piece mind you.. but peace.  Also throughout the book are bit of Jewish lore and tradition that as a non-Jew, I had no clue about.  I felt I was being educated with every turn of the page…. yet at no time felt removed from the story as a whole. 
The pacing keeps you reading…. the story and character development are masterfully thought out.  Although the style of his prose is somewhat clipped for this novel compared to Kavalier & Clay, there is no mistaking Chabon's hand on each page.  I have a certain love for authors that take the obvious time to mete out each word… and to make each word count.  With Michael Chabon, you will get nothing less.
Yes, it's a detective story.  Yes, it's an alternate history.  Yes, it is religious in some ways… yet never preachy or inaccessible to those of us not in the know.  By the end, you may be thinking of certain preconceived notions you may have and about how wrong you may be.  Also, let it be known that this book also has a great sense of humor to it.  The jokes are often subtle, but they are there.
Not the easiest of novels to delve into… nothing Chabon writes is… but not only is this a worthwhile read, you will be greatly rewarded with an epic tale… and possibly learn a few things both real and imagined.
Happy Hanukkah to my Jewish friends,
Cornelius J. Blahg